I love stumbling for new and awesome things to make. I love DIY, I love tutorials, I love up-cycling. I was stumbling recently and came upon this awesome scarf. The picture was linked to a website tutorial, but the links weren't working, so I don't have credit or anything for the maker. Anyway, since I couldn't access the tutorial, I decided I'd figure it out on my own.
This tutorial is also posted on my blog.
Here's my Tutorial, for these amazing fringe scarves. It's an accessory that can be worn with everything if you give it a neutral color (unlike the color I made mine, to the left ;D).
Wow, lucky you; you get to see me without my face on, no makeup at all.
All you need is an old tshirt (any color: bold, patterned, neutral, whatever) and a pair of fabric scissors (or similar anyway).
1.
2.
:: Step One :: Cut the shirt across in a straight line from one armpit to the other. What you'll have left is a rectangular tube.
:: Step Two :: Depending on the thickness you want, cut either half inch or inch wide strips across the bottom. The longer the cut, the longer the fringe will be. I cut about half way up.
3.
4.
5.
:: Step Three: Cut through the seam on either side, along the strip, so you don't end up with one really thick fringe from the sides.
:: Step Four :: Start at the top of the fringe and pull down, causing them to roll.
:: Step Five :: Pretty much the same as four, just continue all along them. I stretched each one three or four times.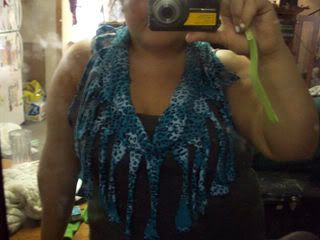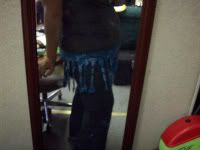 :: WalhLa! :: Wear you're finished piece. Embellish it if you wish, wear it with buttons, layers, or whatever. I absolutely love it. I'm going to wear it to the college next week. It can honestly be worn a whole bunch of different ways to.