This is an easy way to make a non-leather studded belt that's cheaper than buying one!
You'll need:
A bicycle tube
Scissors
Studs
A marker that will show up on black tubing (optional)
Something to push down the prongs of the studs with (screwdriver, scissors work)
To find a busted bicycle tube, you could probably go to a bike shop near you and look in the dumpster or ask if they have any unfixable tubes lying around.
Bicycle tube: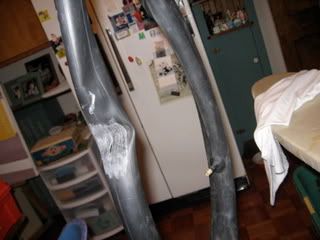 First, take your bicycle tube and cut it so it's not in a circle.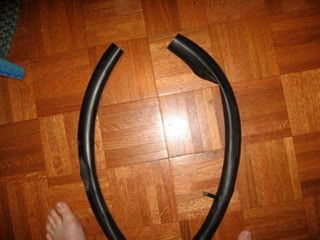 Now cut it along one of the lines so it turns into a flat length of rubber (the lines are a really good guide for cutting a straight line). It'll probably be pretty icky on the inside.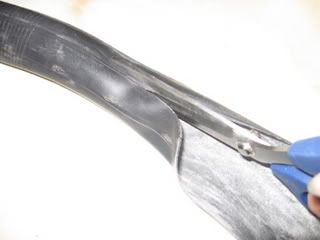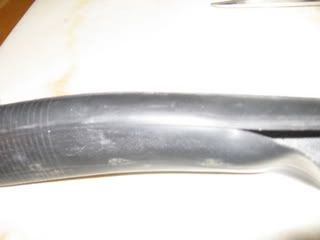 Next, trim it so it's the width you want for your belt. But beware: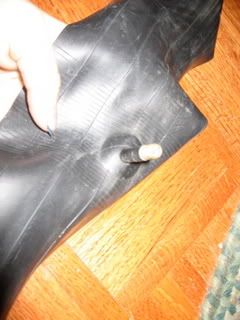 You don't want to have to stud around the nozzle. Make sure that it's not included in your width.
After you've done that, you if you want you can wash off the ickies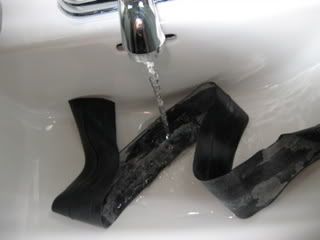 but you don't necessarily have to.
To make sure your width is how you want it, try it on and pull it through your belt loops.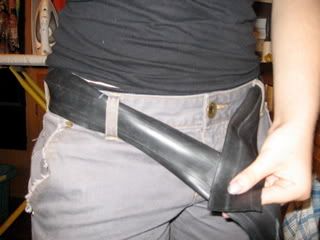 Mine is a little big for my loops, so I'm going to trim it down a little.
After you've gotten the right width, while it's still through your belt loops mark where you want your studs to end/start, and also where you need to trim it if it's too long. Remember to leave enough room at each end unstudded so you can tighten and loosen it. You can always add more studs at the end after you've dealt with the buckle or "buckle."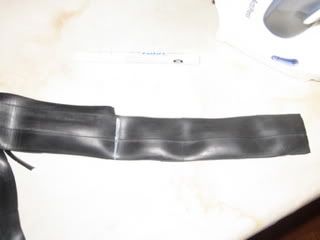 And now, once it's marked and trimmed, you can start to stud. It doesn't matter how you arrange your studs.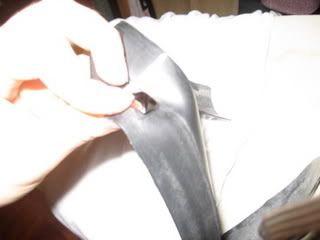 *insert Jeopardy theme music here*
Okay!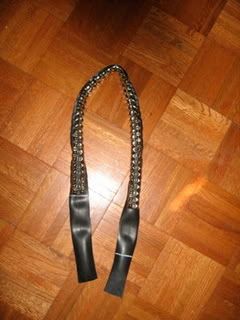 Now try it on: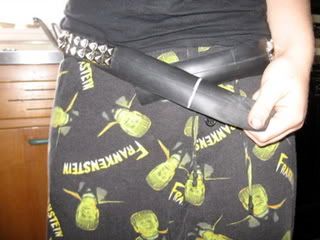 From here you should be able to tell where you want the holes to be to tighten/loosen it. If you have a belt buckle, you can add that on there, but I have no idea how. So, we're going to use studs as buttons.
So, add studs down the middle of one end like so: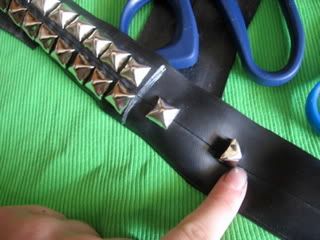 I did three to start.
Try it on again: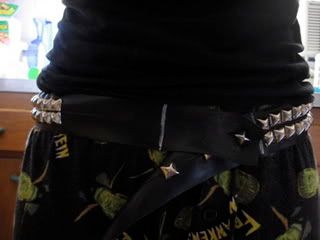 I already had one huge hole, which was why the tube was unusable, so I decided to make that my first hole.
Take it off and line up the non-button stud end to the button stud one: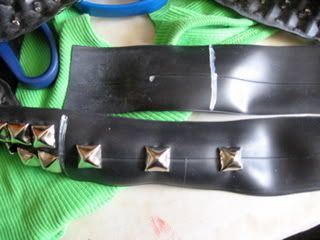 and mark dots so when you cut the holes, they'll line up with the studs.
Cut little crosses where you marked the dots.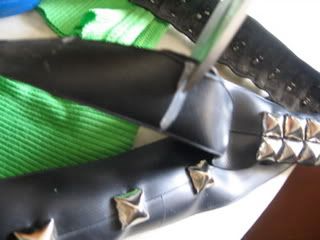 And the studs should go in like this: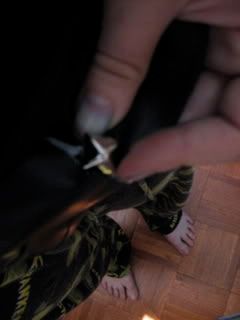 Line them all up: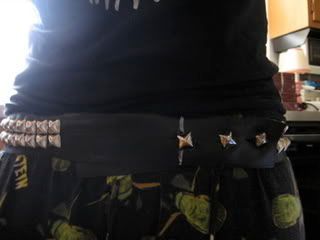 It works! Now, you can make any minor adjustments, like adding more studs, trimming the ends, or adding more holes.
Once you have all that taken care of, you're done! You can adjust how tight it is by lining up different holes with different studs. I would also recommend reinforcing it with a safety pin; sometimes studs don't make the greatest most trustworthy buttons.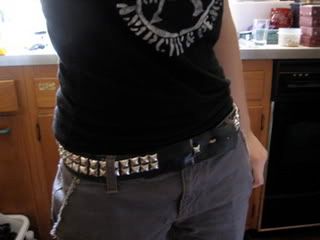 The average vegan studded belt can be over $20, while making it this way (assuming you already own scissors) is only the cost of studs. A bag of 100 standard ½ pyramid studs costs $3.40 not including shipping (from crustpunks.com). Yay!
(If you don't have scissors, buy them. It's an investment.)